MIND AND BODY BUNDLE
Keep your mind and body feeling their best with this trio of great supplements! This bundle gives you energy, calms stress, and helps you look & feel your best by balancing your hormones.
Included: Burn, Drive, and Calm
BURN is a capsule that supports metabolism, calmness, and weight management.
DRIVE is a hormone support supplement for all genders that may assist with libido, natural energy, hormonal imbalances, healthy menstraul cycles, and prostate health.
CALM is a unique adaptogenic formula made to fight stress, improve mental clarity, increase energy levels, and support your mood. One capsule employs antioxidant rich ingredients that will counter daily chaos and give you a more restful night's sleep.
USD$131.00 RETAIL
USD$117.90 AMBASSADOR
(USD$143.98 VALUE)
DETAILS
Enjoy these products daily and prepare to tackle your mission!
Bravenly™ Burn is a unique supplement that is packed with highly effective ingredients, that may help support your healthy lifestyle.
Bravenly™ Calm is a unique adaptogenic formula made to fight stress, improve mental clarity, increase energy levels, and support your mood.†
Bravenly™ Drive is an advanced adaptogenic blend that supports healthy hormonal balance & overall sexual wellness.†
HOW TO USE
The Mind and Body Bundle can be taken daily!
EASY-SHIP
When this bundle is purchased, you will 
not
 automatically be placed on Easy-Ship. When you add products to your Easy-Ship, the price that you pay the first time is the price you will continue to pay, as long as your Easy-Ship is activated.
Easy-Ship is the best way for you to get products to your front door every month without a hassle! But don't worry, we don't require it! Manage your Bravenly Easy-Ship order with ease right from your own Back Office! Questions or concerns about Easy-Ship? Our Bravenly Support Team is happy to help! support@bravenlyglobal.com
†These statements have not been evaluated by the Food and Drug Administration (FDA). This product is not intended to diagnose, treat, cure, or prevent any disease.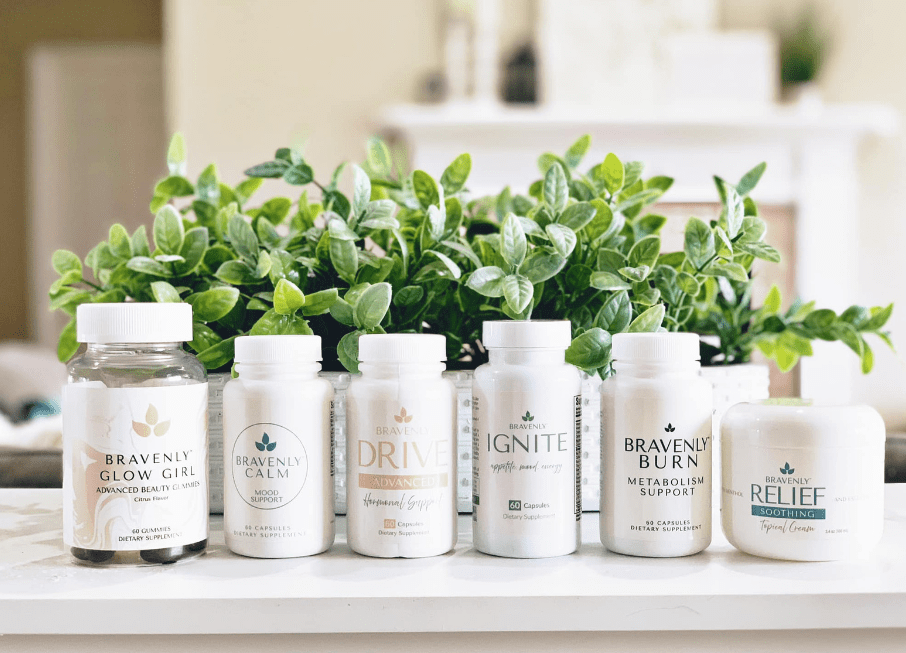 WHY WE MADE BRAVENLY™ BUNDLES
This makes pairing the perfect products together so much easier and cheaper for YOU.
Each bundle is customized towards your specific goals and what is best for your routine and lifestyle.
We paired up some of our most popular product combinations from our most frequent clients – so these are combinations you know you can trust!
Last but not least, we matched up the right amount product servings you need per bundle, so you can have the right amount of supply until you need to reorder!
(Sign up for our Easy-Ship to make sure you're getting your products on time every month!)